Outdoor fireplaces and fire pits in Elkhart, South Bend, Granger, and surrounding Indiana cities.
Add a gorgeous fire feature to your outdoor living space.
In our area of northern Indiana, we have our share of cool evenings that often get cut short due to the temperature. Avoid that and increase the functionality of your outdoor living space by adding a fire feature such as a fire pit or an outdoor fireplace.
At Grow Pros Lawn Care, LLC, we have expert hardscapers who will design and install fire pits and outdoor fireplaces for properties in Granger, South Bend, Elkhart, and surrounding cities in Indiana.
---
Choose any size or shape for your custom fire pit.
To build custom fire pits, we typically use concrete pavers as they are durable, fire-resistant, and come in many different colors and shapes. We'll work with you to choose a paver that matches well with the rest of your outdoor space.
We can create fire pits in any shape or size. Typically, fire pits are either circular, square, or rectangular. Most opt for a fire pit that is about three feet in diameter, but if you have a larger property, then a six-foot diameter fire pit could be an excellent choice as well. If you so desire, we can also add a seating wall around the fire pit to increase seating areas for guests, friends, and family.
Let us know if you'd prefer your fire pit to be gas-burning or wood-burning.
---
Outdoor fireplaces can be gas-burning or wood-burning.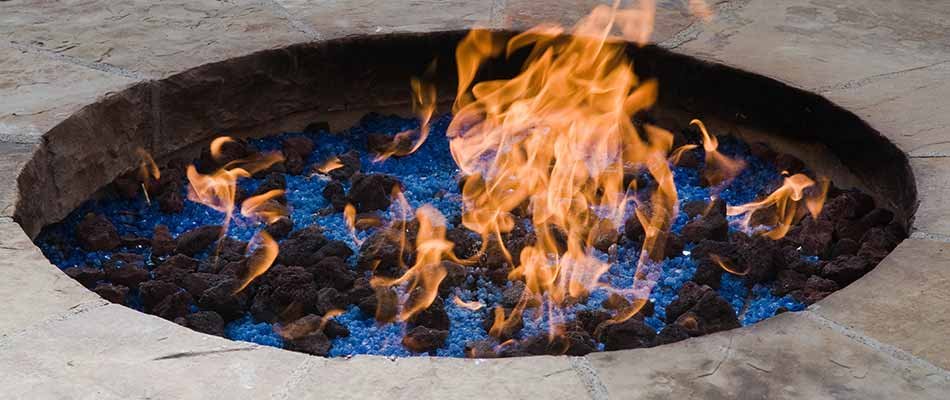 If you'd prefer an outdoor fireplace, our contractors can help design and build that as well. Fireplaces also exude warmth and can be a great place for guests to gather and enjoy the flames. We'll construct a fireplace in any shape or size as well, and these can also be gas-burning or wood-burning depending on your preference. Consult with our hardscape designers about how exactly you'd like your fireplace to function. We may also be able to create a pizza oven if you want to add that to your outdoor living space.
---
Fire features offer many benefits to your northern Indiana property.
A custom fire feature offers incredible benefits. Take the time to gather around a fire with your loved ones, or simply add a gorgeous focal point to your landscape design. They can also help to increase your overall property value in northern Indiana. If you opt for wood-burning fire features, the smoke can work to repel pests such as mosquitoes, as they do not like smoke.
---
Ready to add a fire feature to your northern Indiana home or business? Contact our pros today.
Throughout northern Indiana areas such as Granger, Elkhart, South Bend, and more, the team at Grow Pros Lawn Care, LLC has designed and installed numerous custom fire features for homes and businesses. If you're ready to add a fire pit or fireplace to your property, then contact us today at (574) 326-3526 or fill out our online form and we'll reach out to you!