Lawn mowing, snow plowing, and more for commercial properties in Elkhart County, including Elkhart and Granger.
We maintain the outside of your business with routine lawn mowing, string-trimming, blowing, snow plowing, deicing, and more.
When you own and operate a business, you're focused on the inside of the business—the operations that are moving along your bottom line. Maintaining and keeping up with the exterior of your property isn't something you necessarily have time for, and that's where Grow Pros Lawn Care, LLC comes in.
Our qualified team members can visit your property throughout the year to ensure that the outside of your business looks just as pristine as the inside. We are a one-stop-shop for commercial businesses, supplying full grounds maintenance and landscape installation.
Services we provide to commercial properties in Elkhart, Granger, South Bend, and other areas of Elkhart County and St. Joseph County include:
Irrigation (startup, winterizing, repairs/maintenance)
Landscape design/installation
Mulch installation
Mulch bed edging
Perennial cutbacks
Shrub trimming
Annual color
Leaf cleanup/pickup
Lawn mowing
Bed weed control
Spring and fall cleanups
Snow plowing and deicing
Aeration
Overseeding
Fertilization and weed control
Plant disease and insects
---
Lawn Mowing Services for Commercial Properties in Elkhart County & Nearby Areas
Our lawn mowing crew services businesses and other commercial properties throughout the Elkhart County area, as well as other nearby cities. When you sign up for our lawn mowing, you can expect to see us at your property 26-32 times a year depending on weather and your irrigation system. All of our mows include string-trimming and blowing, and you can opt to add edging onto that as well for an additional fee.
We have all sizes of mowers to reach all areas of your property and we always alternate mowing patterns to ensure there are no ruts in your lawn. To keep your lawn in the optimal height for maximum photosynthesis, we try to only mow 1/3 of the height of the blade each time.
---
Keep Your Property Clear & Safe with Snow Plowing & Deicing
During snow events, we offer 24/7 dispatching so your business can stay open throughout the winter weather. Depending on your preference, we can come out as soon as the snow starts falling or wait until 2" have accumulated before removing the snow. Our company has snow removal equipment for all areas of your property, from snow blowers all the way up to an 18-foot pusher box. The equipment we use for sidewalks and entryways won't leave scratches or scrapes.
If you prefer the snow to be hauled away, we can do that, but generally, we pile the snow in an out-of-the-way area on your property. We also mark curbs to avoid any damage to them. For deicing, we apply the treatment before and after snow happens so that your surfaces won't be slippery for you, your employees, or your customers.
In 2014, more than 40,000 workers lost time due to snow, sleet, or ice-related injuries, according to the Bureau of Labor Statistics.
---
Other Commercial Property Services Include Outdoor Pest Control, Landscaping, & More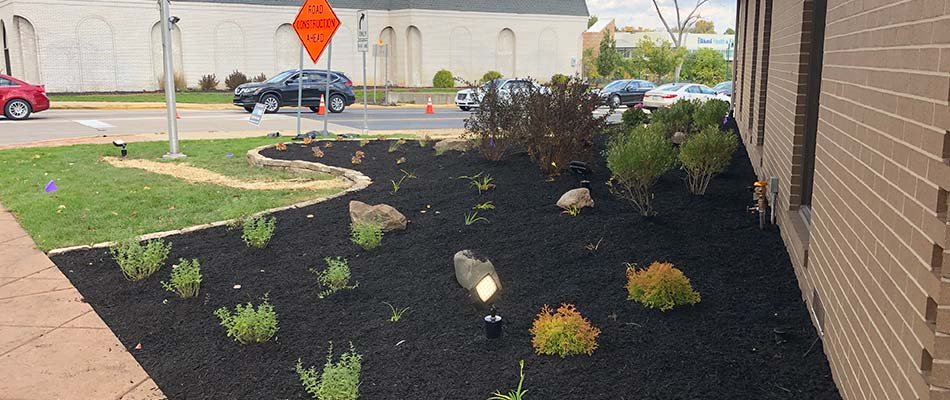 Other services we offer for commercial properties help maintain the exterior of your building so you constantly make a good impression on your customers. These services include:
Perimeter pest control
Mosquito, flea, and tick control
Landscaping design, installation, and maintenance
---
Check out the before and after photos of a landscape project we completed for one of our commercial clients, Centier Bank.
Before
After
---
Contact our company for more information on any of our services offered to commercial properties.
At Grow Pros Lawn Care, LLC, our experience speaks for itself. With years of experience in the green industry and turfgrass management, we can help the outside of your business look fantastic while you're busy running the inside of your business. Give us a call today at (574) 326-3526 to get more information on the services we offer to commercial properties in Elkhart County, including Elkhart, Granger, South Bend, and more.