Published on Thursday, April 14, 2022
Mulch is a great addition to any landscape bed. It provides numerous benefits that allow your landscaping plants to flourish. However, a common question when it comes to mulch management is how often you should replenish your mulch. The general rule of thumb is that mulch should be replenished annually. That's because mulch is composed of natural materials that decompose over time. As the mulch decomposes, it will bring down the curb appeal of your landscape beds and it won't be...
Published on Monday, April 04, 2022
There are easy ways to spruce up your landscape beds. The first is to plant spring annual flowers that will bring new color and interest to your property! Common varieties for Indiana are petunias, impatiens, begonias, and pansies. Second, replenishing the mulch will go a long way in making the beds look well-manicured and fresh. Third, adding edging around your landscape beds will create clean, sharp borders that clearly define the end of your lawn and the start of your flower beds. With ...
Published on Wednesday, March 17, 2021
Your landscape design should be both visually appealing and functional when it comes to your plant beds. Ground covers like mulch and rock have the important duty of protecting your plants from weeds and extreme weather conditions, whilst this is true, it shouldn't compromise your property's overall curb appeal. Mulch and rock add the finishing touches to your landscape for a complete and pristine appearance. Without it your lawn may look like something's missing and your plants...
Published on Tuesday, February 09, 2021
The right landscape bed addition can make a significant impact on the curb appeal of your Elkhart Indiana home or business. If you plan it right, you can make your property look as if you spend hours every week maintaining your landscape when, really, your landscape beds require little to no maintenance! Landscape bed additions such as native plants/shrubs/trees, rocks, and boulders don't need much care but they add great focal points to your property. Top it off ...
Published on Thursday, January 28, 2021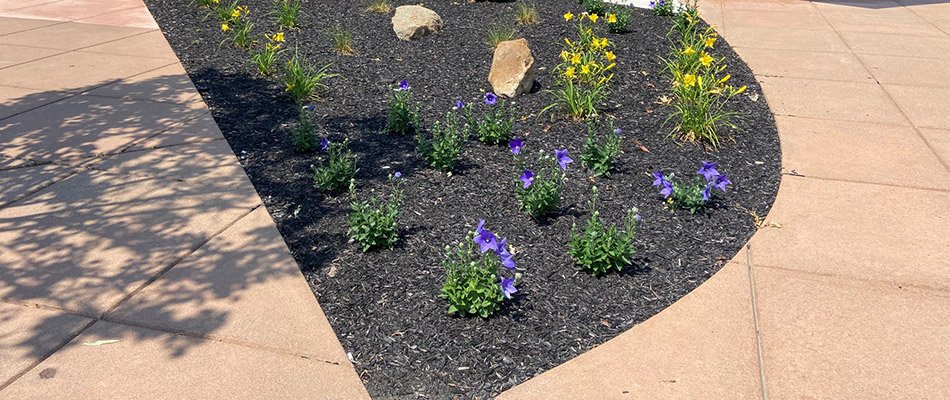 Installing mulch in your landscape beds is not only a great aesthetic choice for your property, but it will also help keep your plants and shrubs happy and healthy. However, mulch needs to be installed correctly in order to reap the great benefits. This means that your whole landscape bed should be covered with mulch that reaches about 2-3 inches deep. It also needs to be replenished annually to make up for the gradual degradation and to make it look nice and clean...