Adding a new walkway to your home or business is a great way to improve the aesthetic appeal of your landscape and grant guests better mobility around your property.
Here at Grow Pros Lawn Care, LLC, we offer walkway installation services for residential and commercial properties in South Bend, Granger, and Elkhart, IN.
When choosing how you want your walkway to look, you must consider various factors. Before settling on a final decision, you should think about the size, color, material, and shape of pavers you want for your walkway. If you're not sure where to start, check out this guide on choosing the right pavers for your new walkway.
---
When choosing the right paver material for your new walkway, consider the durability you need.
When it comes to choosing the right paver material for your new walkway, you must consider the durability you will need. If you live in an area that experiences heavy rain- and snowfall, you will need to opt for materials that are built to withstand inclement weather.
Brick tends to wear down in harsh weather while stone and concrete hold up better.
You will also need to think about where your walkway is being installed. If it's going to be installed under a covered area, you may be able to get away with using a more delicate material. However, walkways that are installed in uncovered areas and will be receiving a high amount of foot traffic need to be constructed with sturdier materials.
Our team here at Grow Pros Lawn Care, LLC will help you choose the right paver material for your new walkway in the northern Indiana area.
---
Pick out the ideal shape of your new walkway's pavers.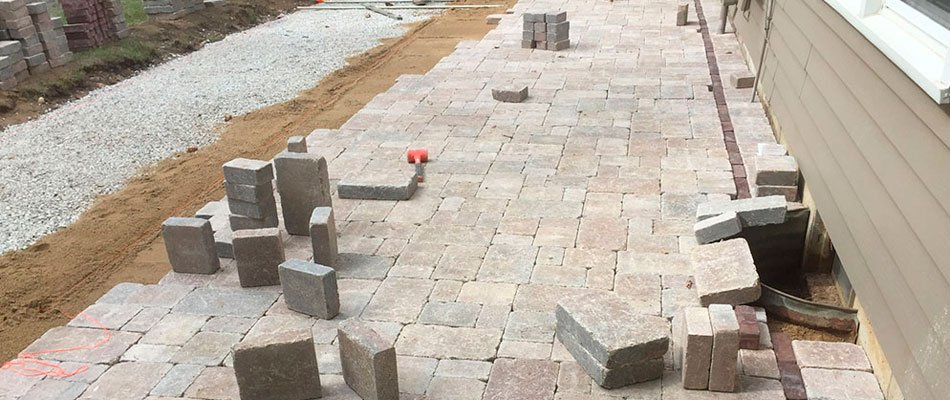 After you have settled on the material you want to use, pick out the ideal shape of your new walkway's pavers. You can come to this conclusion by considering a few factors:
The width of your walkway: If your walkway is going to be a wide one, bigger shapes will work better. On the other hand, you can use smaller shapes if you have a narrower walkway.
Your shape preferences: You're the one investing in your new walkway, so you have complete freedom over the shape and style of your paver material. Think about using circles, scalloped edges, or spirals if you want a more free-spirited look. Don't be afraid to mix and match angular and rounded edges to produce a unique look.
---
Choose the right color for your new walkway's pavers.
When choosing the right color for your new walkway's pavers, you should consider the following factors:
Your property's color: Ensure that the color of your pavers matches the color scheme of your home or business.
Your new walkway's sun exposure: If your new walkway will be in the sun's direct path, you should select neutral, muted colors for your pavers. While vibrant colors look nice, they will inevitably fade over time.
---
Are you looking to install a new walkway for your residential or commercial property? Call us today.
Our walkway contractors are prepared to work on residential and commercial properties of all sizes and types. Allow us to install your new walkway with the exact pavers you want. Call us today at (574) 326-3526 for professional walkway installation services in Granger, Elkhart, and South Bend, IN.