There are many special touches you can add to your patio to make it feel like an extension of your home. Fire pits can add an element of warmth to your landscape, and a focal point for your loved ones to gather around in colder weather. Outdoor lighting extends the usable hours of your patio and can accent your decorative landscaping elements. Seating walls can provide beautiful, sturdy overflow seating without needing to lug extra furniture outside when you have more guests. And finally, a walkway can connect all of the different features of your landscape, bringing cohesion and a gentle transition from one area to the next. Adding one or more of these common features to your patio will increase both the functionality and beauty of your outdoor space so you can enjoy it year-round, even in Indiana.
---
Fire Pits Provide Warm Ambiance & Functionality
Fire pits can be a great addition to any outdoor space. In the colder months, many patios may fall out of use as people typically gather inside to stay warm. Adding a fire pit can help bring back the functionality of the patio during the colder months by providing a warm ambiance for loved ones to gather around and make memories.
The two main types of fire pit are wood-burning, which you'd load with real wood logs, and gas-burning, which you'd connect to a gas line or propane tank.
---
Outdoor Lighting Extends Your Patio's Usable Hours
Without outdoor lighting, you may have to pack up the party and head inside after sunset. Extend the usable hours of your patio with the installation of an LED outdoor lighting system! You can even use the lighting to accentuate the most beautiful parts of your landscape, like garden beds, decorative softscapes, or custom walkways.
Outdoor lighting can also add an element of security, as it may deter potential intruders from entering your property.
---
Seating Walls Can Provide Both Primary & Secondary Seating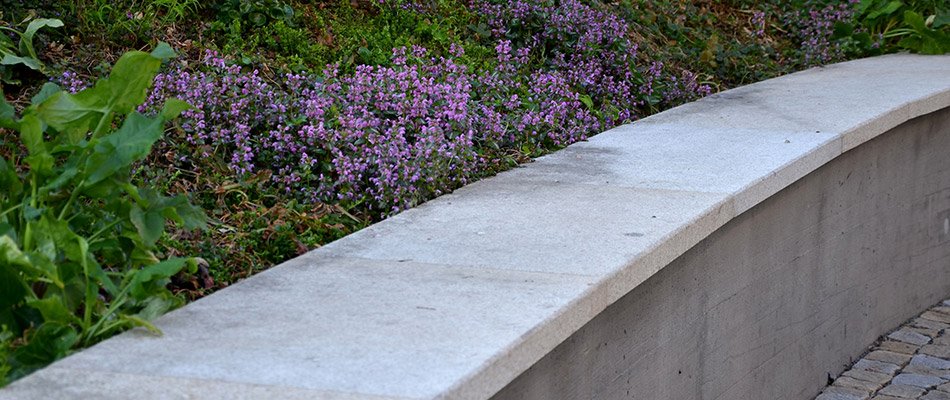 Many of us have been in a situation when more people show up to our event than we have chairs for, and we hope that we have extra furniture to lug outside to accommodate. A seating wall can be the perfect solution to this! It can provide secondary, overflow seating, and when not in use, becomes a decorative hardscape feature. It can also serve as primary seating – for example, wrapping a seating wall around a fire pit. And, if you need a retaining wall in your landscape to help prevent soil erosion, you can double dip so it serves not only as a retaining wall but as a seating wall too!
---
Walkways Connect Your Landscape Features & Provide Cohesion
Connect your landscape features with a customized winding path! Walkways help transition your landscape from one area to the next. Especially if they're made of matching materials, walkways bring cohesion to your outdoor living space. And of course, with walkways throughout your property, it will keep foot traffic off of the lawn you've worked so hard to make manicured and strong!
---
Starting to get some design ideas for your patio? Call us today to schedule a consultation!
Don't keep your design ideas to yourself. Whatever vision you have for your outdoor space, we can make it a reality! At Grow Pros Lawn Care, LLC, we pride ourselves on the high-quality hardscaping services we have been providing to properties in Elkhart, Granger, South Bend, and nearby cities in Indiana. Whether your dream patio includes a fire pit, outdoor lighting, seating wall, walkway, or all four, we have what it takes to get it done and get it done right. Call us today at (574) 326-3526 to schedule a consultation!